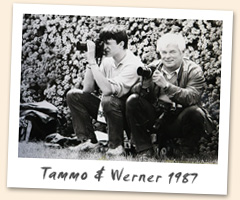 About Us
Since the mid 1980s I have been actively accompanying my father on photo shootings in Germany as well as abroad. After my education to become a typesetter and years of working as a press photographer for a daily newspaper, since 2006 I have been working as a freelance photographer and member of the VDS (German Association of sports journalists).
Nevertheless my focus is very much on equestrian photography. Catalogue photos and reports, from events and people, concerning all different aspects of the horse in sport as well as breeding. I do my very best to take the right photograph to capture and keep the critical moment. I get a lot of support from my wife Hanni, when it comes to fulfilling our clients' wishes concerning equestrian photographs and dealing with accounting.
Since 2000 we have been taking digital photos. Before that my father created one of the most extensive equestrian photo archives with negatives, slides and prints.
In addition to active photography, my main professional tasks involve making full use of this archive and further digitalizing it. Therefore I look forward to your requests concerning the archive as well as concerning new photos.
No matter how the media is changing – a good photo can not be replaced!
Here you can only see a very small selection of our archive photos.
Together we can discover and decide.
Yours sincerely
Tammo Ernst and family